Fence Staining Services for Property Owners in Meridian, ID & the Treasure Valley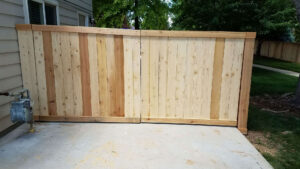 Does your wood fence look a little worse for wear? Nothing beats the rustic beauty of natural wood, but this kind of fencing needs the occasional coat of paint or stain in order to protect it from the elements and prevent problems like fading or splintering. At Treasure Valley Fence, we are well known for our fence installation and repair services, but not many of our customers know that we also offer staining services for fences and gates. If you're a property owner in Meridian, Idaho, or somewhere in the Treasure Valley area, you can rely on our team to refresh your fence in all the right ways.
The Benefits of Staining
At Treasure Valley Fence, we pride ourselves on using the best techniques and highest quality products to provide our customers with lasting results. Treating your wood fence with a high-quality stain accomplishes many things, including:
Enhancing the appearance of your fence
Preventing sun damage and preserving the color
Keeping water from seeping into the wood and causing rot
Preventing splintering and other kinds of surface wear
Ideally, you should have your fence stained every 2-3 years. If your fence could use a little extra attention, let us know. Our team is well acquainted with the needs of wood fencing, and we will ensure your fence gets the TLC it deserves.
Take Advantage of Our Fence Staining Services Today
Regularly maintaining your wood fence can extend its lifespan as well as add curb appeal. If it's time to refresh the fence at your property in the Meridian area, contact Treasure Valley Fence today to schedule a staining service with our capable team.