Expertly Installed Fence & Driveway Gates for Properties in Meridian, ID & the Treasure Valley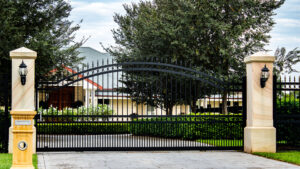 Treasure Valley Fence is a family-owned and -operated fencing company that provides custom fence and driveway gates for commercial and residential clients in Meridian, Idaho, and throughout the Treasure Valley. We are fully registered and insured as well as certified by the American Fence Association (AFA), so there is no doubt that we can provide you with a high-quality solution tailored to your unique needs.
A Trusted Fencing Contractor Serving Meridian
Whether you're in the market for a simple fence gate or would like to enhance your property with a new fence and a driveway gate, the experts at Treasure Valley Fence can help. Our fence gates and motorized driveway gates are custom-built for your project. We serve homeowners and business owners alike and will listen to your needs so that we can recommend the best solution.
If you would like to have a new fence built in addition to having a fence or driveway gate installed, you'll be able to choose from a variety of premium materials including vinyl, composite, wood, and metal. We even offer temporary fencing for commercial properties and construction sites. No matter what you need, our experienced professionals will be on your side throughout the process ensuring that everything goes smoothly.
Explore Our Selection of Fence & Driveway Gates
Interested in browsing our collection of fence and driveway gates? Reach out to Treasure Valley Fence today. We would be happy to walk you through your options and help you choose something that suits your property and lifestyle.