Durable Ornamental Fencing Offered in Meridian, ID & Throughout the Treasure Valley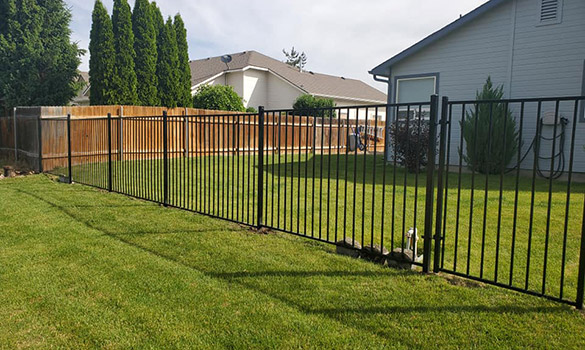 Ornamental fencing—made from steel, aluminum, or wrought iron—is an open-view metal fence with a stylish look and powder-coated color. At Treasure Valley Fence, we offer our customers in Meridian, Idaho, and beyond a wide range of ornamental fencing options, from heavy-duty steel for properties that require high security to lighter-weight aluminum for homeowners that seek an aesthetically pleasing fence. Our experienced team will guide you through the process of selecting the right type and color to fit your needs and preferences as well as complete the installation with care so that your new fence serves you well for decades to come.
The Benefits of Ornamental Fencing
Thinking about investing in a new fence? Whether you're still researching your options or have your heart set on ornamental fencing, you're probably curious about the benefits this kind of fence can offer your property. Here are a few of the perks you can expect with an ornamental fence from Treasure Valley Fence:
Heightened security
Durable construction
Complete design freedom and style versatility
High weather resistance
Low maintenance requirements
The best part is that you won't have to sacrifice the view, since you can see through ornamental fencing to the vista beyond. And because we source our ornamental fencing from reputable manufacturers, you can be confident that you will receive a well-made product that is built to last.
Start Designing the Ornamental Fence of Your Dreams
Treasure Valley Fence is standing by to design the ornamental fence of your dreams. Get started today by filling out our contact form to be put in touch with a member of our team. If you're interested in financing your fence installation, you can also fill out this form to learn about our financing offers. We can't wait to show you why we're the top ornamental fence installer in Meridian and throughout the Treasure Valley.