Fencing Services From a Professional Contractor Serving the Treasure Valley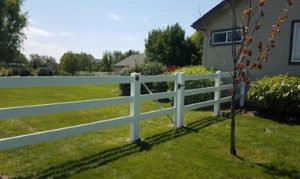 When homeowners and business owners in the Treasure Valley need a fence replaced or installed on their property, they know to turn to Treasure Valley Fence. We are a local, family-owned and -operated fencing company that is based in Meridian, Idaho, and offers the following services:
Fence Replacement and Installation
We design fences to meet the unique needs of the property. Our fences are available in low-maintenance vinyl, beautiful cedar, ornamental steel, and ultra-durable composite fencing materials. We also install fence gates and motorized driveway gates.
Fence Maintenance
If you prefer the look of a natural wood fence, you'll love our cedar fencing. One thing to keep in mind about real wood, however, is that it requires regular maintenance to ensure it always looks its best. Allow us to handle this chore for you.
Fence Staining
A great way to ensure your new cedar fence stands the test of time is by letting our professionals stain in. Staining your fence will maximize its lifespan and add beautiful color to your yard.
Commercial Fencing
For local business owners, we install the same fencing materials as our residential projects, as well as chain link fencing and temporary fencing.
Learn More About Our Fencing Services
To learn more about our fencing services, or to begin designing a new fence for your property in the Treasure Valley, contact Treasure Valley Fence today. When you do, we'll be happy to provide an instant fence estimate to get you started.