Composite Fencing Installed for Properties in Meridian, ID, & Throughout the Treasure Valley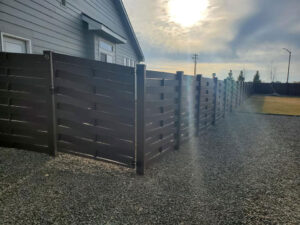 Are you tired of having to repair or replace fencing that just can't stand up to the local climate? If so, Treasure Valley Fence has the perfect solution for you: our premium composite fencing. Made from a blend of natural wood fibers and synthetic resins, this kind of fencing offers beauty and durability all in one. We specialize in custom designs, so we can manufacture and install a custom composite fence for your Meridian, Idaho, property that suits your needs and aesthetic tastes.
Get Your Composite Fencing From a Professional Fence Company
At Treasure Valley Fence, we understand the ins and outs of fence maintenance, and we know that it can get old fast. That's why we recommend composite fencing for our clients who are looking for a durable, low-maintenance option. It requires little upkeep to keep it looking and performing at its best. However, that's assuming that the installation is handled correctly. For best results, you'll want to team up with a reputable contractor that has the expertise to carry out your project flawlessly. That's where Treasure Valley Fence comes in. We are registered and insured professionals, so there's no doubt we have what it takes to provide you with a flawless composite fence installation.
Learn More
Treasure Valley Fence is proud to be Meridian's leading fencing contractor, serving business owners and homeowners throughout the Treasure Valley area. If you're interested in getting more information about our composite fencing, contact us today. We would be happy to answer any questions you may have and provide you with an estimate for your fence installation.